This is a post I have been meaning to write for a few days and have continued to put off for one ridiculous reason or another. However, even though it is several weeks too late I will now regale you with my tale of cycling the Shimanami Kaido. {side note: this will be a personal narrative, if you are looking for detailed information on taking this trip yourself I suggest you go
here
or
here
or
here
.}
Final bridge connecting Shikoku to Honshu.
My story probably starts closer to the beginning of our time in Japan when I first heard about the Shimanami Kaido
which

links Onomichi, Hiroshima Prefecture, with Imabari, Ehime Prefecture. It's a 60 kilometer-long toll highway exclusively for automobiles that links the islands of the Seto Inland Sea with nine individual bridges.
Each bridge consists of a road way and a cycle/pedestrian
corridor. In addition to the bridges the wonderful folks behind the Shimanami Kaido also designed and incorporated a complete cycle route with access ramps and signs that guide you the entire way. On top that, they even painted a blue line on the highway all the way from Onomichi to Imabari city
centre. In other words if you get lost, well you probably deserved it.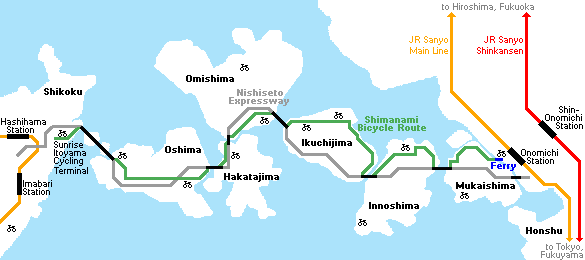 The cycle route is slightly longer at about 70kms
But I digress, when I first heard about it another teacher from my school suggested we cycle it sometime, however when plans were finally made we only ended up driving his car to certain points and cycling around them... also it rained and we got completely soaked. At this point I can not stress enough, if you are going to attempt this trip be aware of the weather. Not only does cycling in the rain suck, but the wind on some of the bridges can become down right dangerous if not given a healthy amount of respect.
Fast forward to very recently, October 20th to be exact. A second attempt had been planned with the addition of one more to the party and coinciding with me getting a new road bicycle the week before. So with high hopes that the weather would hold two of us set from the starting point of the ferry terminus on Mukaishima, the first of the islands we would have to cross. On the other side of the island we met up with my fellow teacher and tackled the first bridge.
My new bike is the one on the right.
The Trek belonged to the other member of our group
and is a significantly more expensive bike then mine. :(
The first bridge we had to overcome and the only one where
the cycle path is actually below the cars on second level.
The weather held and we could not have asked for a more perfect day for cycling. Once we reached Oshima island the teacher from my school called it a day and turned around in order to return to his car, while the remaining two of us continued on. Just outside of Imabari City my other companion also turned around, so that he could make it back home before dark. I had intended to to finish the entire route so I continued on alone. When I finally reached Imabari at around 2:00 in the afternoon I was tired and hungry but happy that I had finally completed something I had been wanting to do for some time. I was also rewarded at the end of my trip with a bonafide Giant store, which if you know me is second only to discovering an Apple store. :)
I highly recommend that if you ever find yourself in this neck of the woods and have a day to spare that you spend it cycling the Shimanami Kaido.
Attempting to not be the tallest one out. Walker-sensei (L)
One of the longer bridges we encountered.
Walker-sensei (L) Fujita-sensei (R)
Fantastic signs that show the effort put into making this one of premier cycle routes in Japan.
Restaurant where I ate my much needed victory meal.
Imabari speciality: Rice, fried pork and two sunny side up eggs.
If you know me you would realize how giddy this made me.
And the fact that I asked one of the girls working at the shop to take this picture really made her day.